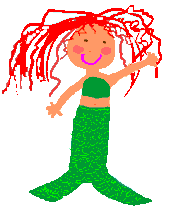 I was born in San Francisco, California.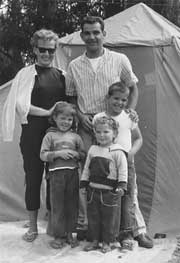 That's me, front right in the tent photo, the youngest one with my hair in bobby pin curls! I'm with my mom and dad, my big sister, Jane, and my big brother, Chris. When I was a kid, my family liked to camp at the beach in southern California every spring break. Most summers we'd go camping at the beach again, or in the mountains near a stream or lake. Maybe that's why I've always loved the water--swimming, playing, and splashing around.

In fact, I still splash around now (I mean "work out") in my water-walk class three times a week.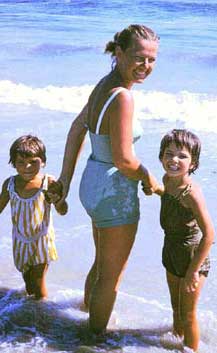 That's me again in the lovely yellow-striped swim suit with my mom and big sis. My parents said I could swim like a fish, and that I always wanted to be in the water. Do you see how my mother is gripping my hand? Do you think she is afraid I will swim away? Did you notice that my feet aren't showing? Perhaps my mermaid tail is hidden underwater?

I took my first course in Writing for Children at UC Davis a long time ago. After graduating from college, I went to Japan where I taught English for three years. I returned to California, started a family (my two boys are grown now and off to college), and began teaching preschool. I've been teaching preschool for 20 years already and I still love it. My mom says I like my job so much because I get to play every day. She's probably right! I also read lots of picture books to the kids. What fun. After reading so many picture books, I wanted to try writing some of my own.

The preschool children inspire me with many ideas for interesting, sweet, tender, and funny characters. So teaching and writing is a good combination for me.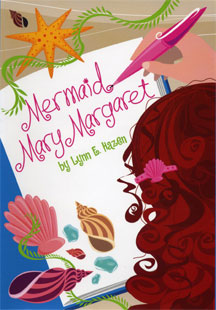 I've been writing and rewriting stories and sending them to publishers for years and years. I never gave up! Mermaid Mary Margaret is my first book. I hope you like it!

What else do I like to do? I like to take walks, collect beach glass, go hiking, and backpacking. I like to garden. My specialty is plants that attract butterflies. I like to spend time with my family and friends, and do creative projects of all kinds. Of course I love to read good books, too.

Do you like school? I love going to school to learn new things. I have a Bachelor of Science degree in Applied Behavioral Sciences from the University of California at Davis. I have a Master of Arts in Education, and a Professional Certificate in Multimedia Studies, both from San Francisco State University. I recently completed my MFA in Writing for Children & Young Adults at Vermont College in July 2004.

Are you a good student? I wasn't always a good student. Take a look at some of my old report cards. Uh-oh. My Kindergarten teacher said I needed to improve in "listens to and follows directions" and "demonstrates self control." My First Grade teacher said the same.





By Second Grade my behavior was better, but that teacher said I needed improvement on "does neat work." In fact I got a D in Handwriting! Too bad they didn't have a class in telling stories. I bet I was very good at telling stories!

Even as an adult, my handwriting "needs improvement." Thank goodness I can write my stories on the computer! Yes, I still like to tell stories. One story is another Mary Margaret adventure. Where in the world do you think Mary Margaret is going next?

Click here to see what Mary Margaret discovers when she travels somewhere new.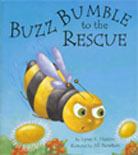 I have a picture book, too. It's called Buzz Bumble To The Rescue. Please bookmark and check back to this web site from time to time for news about my other books, or feel free to peek at my other website: LynnHazen.com for more information about Lynn, author visits, etc.


To contact Lynn about school visits or author talks, please send an email to AuthorLynn@aol.com.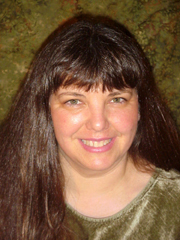 Thanks for taking a look.
Lynn