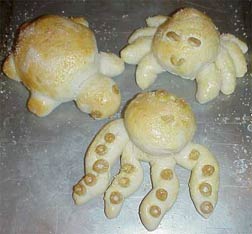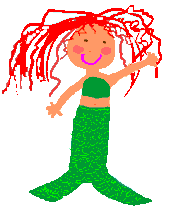 Let's make Mary Margaret's favorite pretzels! What sea creature shape would you like? A sea turtle, crab, or octopus? A starfish or an eel? The possibilities are fathomless and fun. Invite your family or friends to help you bake and eat these easy and yummy pretzels. Dive in! Yum!
Don't forget to check with your grown ups first, and read the Safety and Cooking Tips.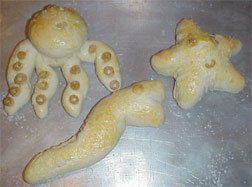 What you'll need:
1 1/2 cups warm water
1 Tablespoon sugar
1 envelope active dry yeast
4 cups of flour
1 teaspoon salt
1 beaten egg (and a pastry brush)
kosher salt

Here's what to do: Preheat oven 400 degrees
1. Wash your hands.
2. Add 1 Tablespoon sugar and 1 envelope active dry yeast to 1 1/2 cups warm water. Stir gently, then set aside until it becomes bubbly and frothy (about 5 minutes).
3. Mix flour and salt together in a separate bowl.
4. When the yeast mixture is bubbly and frothy, stir it into the flour and salt mixture. Stir with a wooden spoon until mixed together well.
5. Turn dough out on a board and knead until smooth and bouncy.
6. Divide dough into 6-12 smaller balls of dough and shape into whatever pretzel shapes you like: octopus, eel, fish, sea turtle, starfish, crab, etc.
7. Decorate with O-shaped dry cereal if desired for tentacles, eyes and such.
8. Place unbaked sea creatures onto an ungreased baking pan.
9. Beat egg in a small bowl, then use pastry brush to lightly paint the sea creatures with the egg.
10. Sprinkle with a tiny bit of kosher or coarse salt.
11. Bake 8-12 minutes until golden, lightly browned and done all the way through. You might just have to break one open, and taste it to see if it's done!

These pretzels are so yummy when they are warm from the oven! Try with a dab of your favorite mustard.

Helpful hint: Please don't worry if your pretzel creature looks lumpy and funny before you bake it. Just consider it a "lump fish." Besides, it will poof up and smooth out while baking. And it will taste good no matter what it looks like. Invite some family or friends over to bake them with you. What fun!